Kalimba Gecko in camphor wood - 17 steel keys including accessories
The Kalimba Gecko is a unique instrument that can produce a resonant sound similar to that of a piano. Made from high-quality camphor wood and carbon steel, it is easy to play, portable and ideal for beginners and experienced musicians alike.
Included in your complete kit
✿ Kalimba Gecko 17 keys in camphor wood and high-quality carbon steel
✿ Tuning hammer for easy sound adjustment
✿ Piano bag for easy transport of your kalimba
✿ Tuning stickers
✿ Explanatory booklet to learn the basics
✿ Cleaning cloth to care for your instrument
Features
🎶 High-quality materials: Made of high-quality camphor wood with carbon steel keys for clear, bright sound
🎵 Comfortable design: 17 keys engraved with notes for easy playing and a comfortable feel with a long note hold.
🎼 Easy to learn: suitable for beginners, allowing practice of finger flexibility and coordination.
🎹 Tuned in A (A): suitable for playing in the key of A (A) to accompany other instruments or play solo
👌 Portable: easy to carry with its included piano bag, you can play anytime, anywhere
How to tune your Kalimba Gecko?
To tune your Kalimba Gecko, use the included tuning hammer to adjust the keys and obtain the desired sound.
Enjoy the music with the Kalimba Gecko
Take your Kalimba Gecko with you to play music anytime, anywhere, whether you're traveling, celebrating or just relaxing. It's also a perfect gift for children, adults, beginners, professionals and music lovers alike.
Frequently asked questions
How to play the Kalimba Gecko?
To play the Kalimba Gecko, hold it in your hands and play notes with your thumbs to create clear, melodious sounds. The explanatory booklet included in your kit will help you learn the basics and develop your technique.
What makes the Kalimba Gecko unique?
The Kalimba Gecko is made from high-quality camphor wood, giving it a rich, clear sound. It is also tuned in A, making it suitable for playing with other instruments or for soloing. What's more, its 17 carbon steel keys offer a comfortable feel with long note holding, making it a perfect choice for beginners and experienced players alike.
How do I care for my Kalimba Gecko?
To care for your Kalimba Gecko, use the included cleaning cloth to gently wipe the keys and body of the instrument. Store it in its piano bag when not in use to protect it from dust and moisture.
Can I play different kinds of music with the Kalimba Gecko?
Yes, the Kalimba Gecko can be used to play many different kinds of music, including folk, pop, classical and more. Beginners can easily learn to play simple tunes, while experienced musicians can create more complex melodies.
Is the Kalimba Gecko easy to transport?
Yes, the Kalimba Gecko is easy to transport, thanks to its included piano bag. You can easily slip it into your backpack or suitcase and take it with you wherever you go.
The GECKO kalimba is a versatile, easy-to-play musical instrument. Made from high-quality camphor wood, this beautiful, durable instrument is ideal for beginners and experienced musicians alike.
The package includes everything you need to start playing immediately, including a piano bag for transport, tuning stickers, teaching material to learn the basics, a detailed instruction manual, a tuning hammer to adjust the slat rods and a cleaning cloth to maintain your instrument.
The GECKO kalimba is a perfect addition to any musician's equipment and an ideal gift for music lovers. So go ahead and order now to enjoy this unique and captivating instrument!
The Kalimba Gecko is very easy to learn! You'll discover the joys of learning a musical instrument in 5 minutes, without ever making a wrong note.
Touch its metal slats to discover a pure, majestic sound. The Kalimba Gecko, created from metal and wood, is the perfect instrument for a child to discover the world of music as quickly and easily as possible.
Let yourself be tempted by this magnificent Gecko Kalimba in Camphrier!
It's made from special, high-quality materials. In fact, the material structure of camphor wood is suited to the manufacture of musical instruments, extending the duration of the sound, and when the key is pressed once, the resonance of the sound can be maintained for a maximum of 8 to 10 seconds. 
Easy to transport: This product includes a carry bag, so you can always transport the Kalimba Gecko as you wish.
A Gecko Kalimba is a great way to introduce anyone to music.
Maybe you're the one your third grade teacher told not to sing, but to just say the words out loud at the elementary school choir concert.
Maybe your musical confidence is low. Well, nothing is lost. Take heart, anyone can play the kalimba! You can be a campfire hero and impress your parents, children or friends! 
Take into account the type of wood, the number of teeth or keys, and the tuning when choosing a kalimba for you.
Traditional kalimbas are made from African hardwood, usually kiaat, which is a protected tree in some countries. Mahogany is another popular wood for kalimba construction, as are bamboo, acacia koa, spruce, camphor and sandalwood. Each wood offers its own unique sound.
Gecko kalimbas are generally available with 6, 8, 12 or 17 teeth. Beginners find that fewer choices can make playing easier, but a kalimba is not difficult... Even non-musicians can start playing tunes in no time.
Many gecko kalimbas are tuned to a standard scale, usually C or G. You can find alto or treble kalimbas, which, with their octaves, allow several players to play the same song. Kalimbas can also be tuned to other scales, depending on the music. 
What it has more:
High quality The 17-key Kalimba Gecko is made from camphor wood and high-quality carbon steel. The delicate feel and tight wood will give you an excellent playing experience. The carbon steel key material does not rust easily. Solid camphor wood gives a pure sound with sufficient resonance and low vibration loss without noise. Made from natural wood.
Very good sound : The professional kalimba has a single board which is the international B key, giving an ethereal, moving sound. The single-board Kalimba sounds cleaner than the box-type Kalimba, has a perfect voice, pop, folk, classical. Any style of music can be mastered.
The charm of this Kalimba Gecko Charming small-scale design, long-lasting play won't be felt at all, as the unique curve of its small size is the best curve for posture. What's more, the camphor wood will also have a uniquely woody scent.
The kalimba is easy to learn The Kalimba Gecko piano keys are engraved with letters and notes, making learning quick and easy. The hand rest gives you more comfortable hand protection. Just move your thumb to get the wonderful music. It's also a great stress reliever when you're upset.
An ideal choice for a gift The texture is different, so each kalimba is unique. It's an ideal musical gift for friends and lovers. It's great to have a unique gift. By playing wonderful music, it will remind people around you that someone has given a unique, original and incredible gift. Camphor wood has a unique scent.
With no need for a musical foundation, all you have to do is move your thumb to get the wonderful music that will delight you all day long.
It is rich in volatile oils and fats with a natural wood grain and a beautiful, special aroma. 
It's the best instrument for recording performances, for the family, for school, for parties and relaxation.
Please note that models may vary depending on the manufacturer.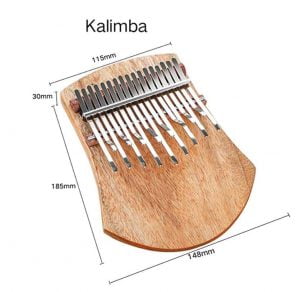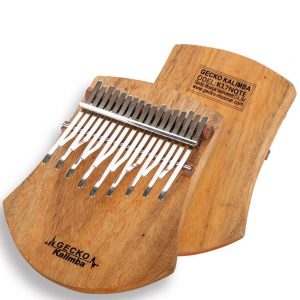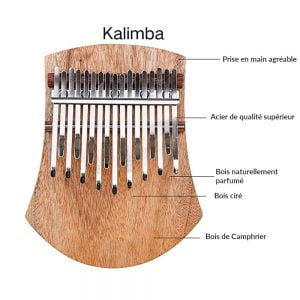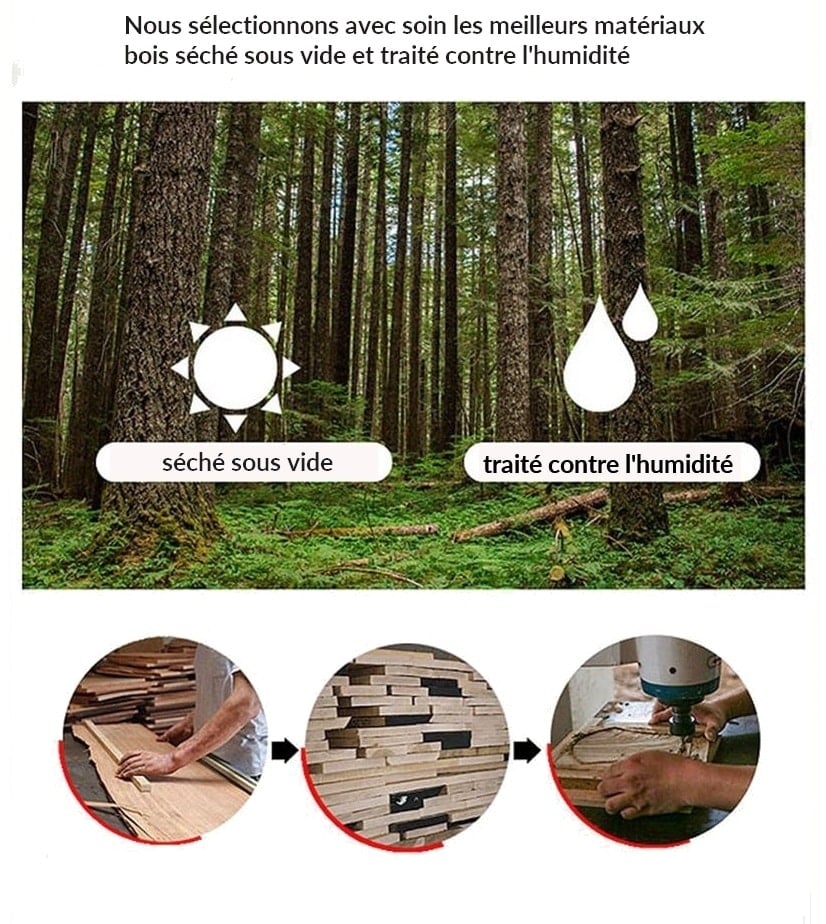 You'll also like this one: [Complete Kit] Mahogany Kalimba