Make a sequel that fits this absolutely:
🎶 Test:
🎵 Features :
The Kalimba Ling Ting is made of high-quality solid wood with carbon steel notes. This 17-key Kalimba Ling Ting offers a brighter, clearer tone, longer sustain and a comfortable feel. This Kalimba Ling Ting is a true musical instrument that will amaze you!
With this instrument, you'll learn quickly and easily 🎓. Simply hold it in your hands and play notes with your thumbs to create clear, melodious sounds. It can also create special tremolos with the accompaniment chain. 🎶
🎼 Kalimba Ling Ting specifications :
Brand: LingTing

Model: K17A

Number of keys: 17

Body material: African rosewood

Keys: metal ore

Bridge: Rosewood

Key: key C (C)

Item size: 12*18*2.6cm

Item weight: 480g

Package size: 24*19*9cm

Package weight: 1120g

(There is a 1-2mm margin of size error).
All products are made from high-quality materials selected by skilled craftsmen. This is a branded product, each one customized for music lovers. Handcrafted from high-quality yellow sandalwood and mineral metal. Hold the instrument in your hand and use your thumb to move the teeth to play.
This instrument is ideal for entertaining trips, religious ceremonies, weddings and other social gatherings. The key is the same as that of the piano, and is the international standard. The Ling Ting kalimba is relatively easy to learn.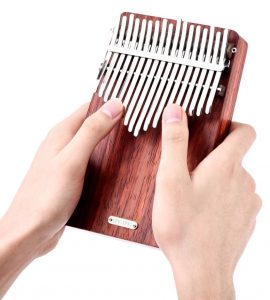 The advantages of the Ling Ting kalimba: 
- LingTing is a professional manufacturer of thumb pianos, ukuleles and musical instrument accessories. Each piece of Kalimba LingTing is unique. 
- The Ling Ting kalimba is made from high-quality materials: handcrafted with high-quality wood and adjustable carbon steel blades on its 17 keys, it gives musicians the best experience. It is also suitable for players of all levels of musical ability. A good choice for children, beginners or professional musicians.  
- An original and powerful gift: You can play the Ling Ting kalimba with your parents, friends and children, and enjoy the pleasure the music brings. It makes an excellent gift for the person you love. The Ling Ting kalimba is a modern version of the African mbira, and is also known as a thumb piano. The Ling Ting kalimba can be used as a solo instrument or as an accompaniment for singers, musicians and dancers. 
Description of the kalimba Ling Ting: 
The kalimba is a family of musical instruments. They consist of a wooden board (often fitted with a resonator) to which are attached staggered metal teeth, played by holding the instrument in the hands and pinching the teeth with the thumbs (minimum), the right index finger (on most mbira), and sometimes the left index finger.
Musicologists classify it as a lamellophone, part of the family of pinched idiophone musical instruments. In East and Southern Africa, there are many types of mbira, often accompanied by the hosho , a percussion instrument.
The art of making and playing the Mbira / Sansa, the traditional finger-picking musical instrument of Malawi and Zimbabwe, is part of UNESCO's Representative List of the Intangible Cultural Heritage of Humanity.
A modern interpretation of the instrument was commercially produced and exported by ethnomusicologist Hugh Tracey from the late 1920s, popularizing similar instruments outside Africa. Tracey's model was inspired by the mbira nyunga nyunga and named "Kalimba" after an ancient predecessor of the mbira instrument family.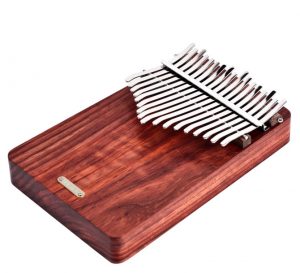 The history of the kalimba :
The history of the kalimba (its roots, its sound, etc.) gives structure and depth to the instruments we listen to and play today. Hugh Tracey's life's work has proved to be the reason why kalimbas are known and loved by so many people around the world today.
The beginnings of the kalimba :
The history of the kalimba in Africa is rich and varied, dating back 3,000 years, but the metal-toothed kalimba is only about 1,300 years old. The modern kalimba player can learn much from the threads of traditional African kalimba music.
Young Hugh Tracey was brought to Africa, where he fell in love with its traditional music; his life's work led to the kalimba's entry into Western consciousness. He was one of the first Europeans to fall in love with the African kalimba.
At a time when traditional African music was rapidly disappearing and African scales were being replaced by Western ones, Hugh Tracey founded ILAM, an institution dedicated to preserving African music and promoting research in this field.
To learn how to play Led Zeppelin's "Stairway To Heaven" on the kalimba, follow this guide link !
Find out how to match your kalimba with this Youtube video.