In this Best Kalimbas Buying Guide you'll learn how to choose your best musical instrument!
Also known as the thumb piano, the Kalimba is a wonderful instrument, enjoyed by players all over the world. Perhaps the best first instrument to start playing, the Kalimba can offer a truly rewarding and relaxing playing experience, and its ease of access is the reason for its success.
Naturally, making the right choice of Kalimba, especially if you're just starting out, can be difficult.
You need to ask yourself what qualities and features of the instrument are important for a good kalimba suited to your playing skills. The answers to these questions will help you choose the right model for you.
Given that there's a whole range of Kalimbas to choose from, this is easier said than done. That's why we're here. We've rounded up the Top 10 best Kalimbas on the market and written this review to help you choose the perfect Kalimba for you.
So let's find out which model is right for you!
Top 10 best Kalimba in 2022
Name
Number of keys
Notes
Body
Tuning
Accessories

Best Choice
Give 17 Kalimba Keys



See price

17
Carbon steel
Mahogany
C
Portable bag tuning hammer

Complete Kit - Kalimba 17 Notes Solid Mahogany



17
Metal ore
Solid mahogany
C
Protection box, tuning hammer, study instructions, Kalimba learning booklet

Kalimba 17 Notes - Professional

17
Professional steel

Mahogany
C
Carrying bag and tuner
17
Carbon steel
African piano wood
C
Carrying bag and tuning hammer
17
Carbon steel
Acacia
C
Directions for use, bag, agreement, instructions
17
Carbon steel
Mahogany
C
Not specified

[Complete Kit] Mahogany Kalimba

17
Iron ore
African mahogany
C
Music book, chord hammer and bag
17
Carbon steel
Mahogany
C
Portable bag, stickers and cloth
17
Mineral steel
Mahogany
C
Tuner, cloth bag, pick-up and key stickers

piano Mugig Kalimba Mbira


ten
Metal
Mahogany
C
Engraved notation, cloth bag, tuner and music book
We begin our review with this truly Wonderful Kalimba - Kalimba 17 Notes from Muspor. It's a beautiful instrument with solid construction and plenty of features you'll love. We love it, and we think you will too.
First of all, it's small and lightweight, so you'll have no trouble moving it around. It also comes with its own bag for transporting the instrument, which adequately protects it.
Another reason we love this Kalimba is its value for money. It's very affordable, which means the instrument is within the reach of most people. And, for the price, the Muspor 17 offers an incredible level of performance that will impress anyone who listens.
It's a excellent Kalimba for musicians testing the instrument for the first time. The experience will certainly be familiar.
Now for the keys... The Kalimba 17 Notes from Muspor, of course, comes with 17 keys. And these keys are made of high-quality carbon steel. Thanks to this, the Kalimba gives a magnificent sound and superb resonance.
What's more, it's so easy to play that all you have to do is warm your thumbs and you'll soon be rocking out to beautiful melodies.
With its solid mahogany body, this Donner Kalimba is easily one of the best on the market.
Finally, it's also worth mentioning that this Kalimba is perfectly tuned. Tune it to the international C standard.
Notes 1 (D), 2 (B), 3 (G), 4 (E), 5 (C5), 6 (A), 7 (F), 8 (D), 9 (C4), 10 (E), 11 (G), 12 (B), 13 (D), 14 (F), 15 (A), 16 (C6), 17 (E).
So once you've taken this out of the box, you can start playing and enjoying your Kalimba straight away!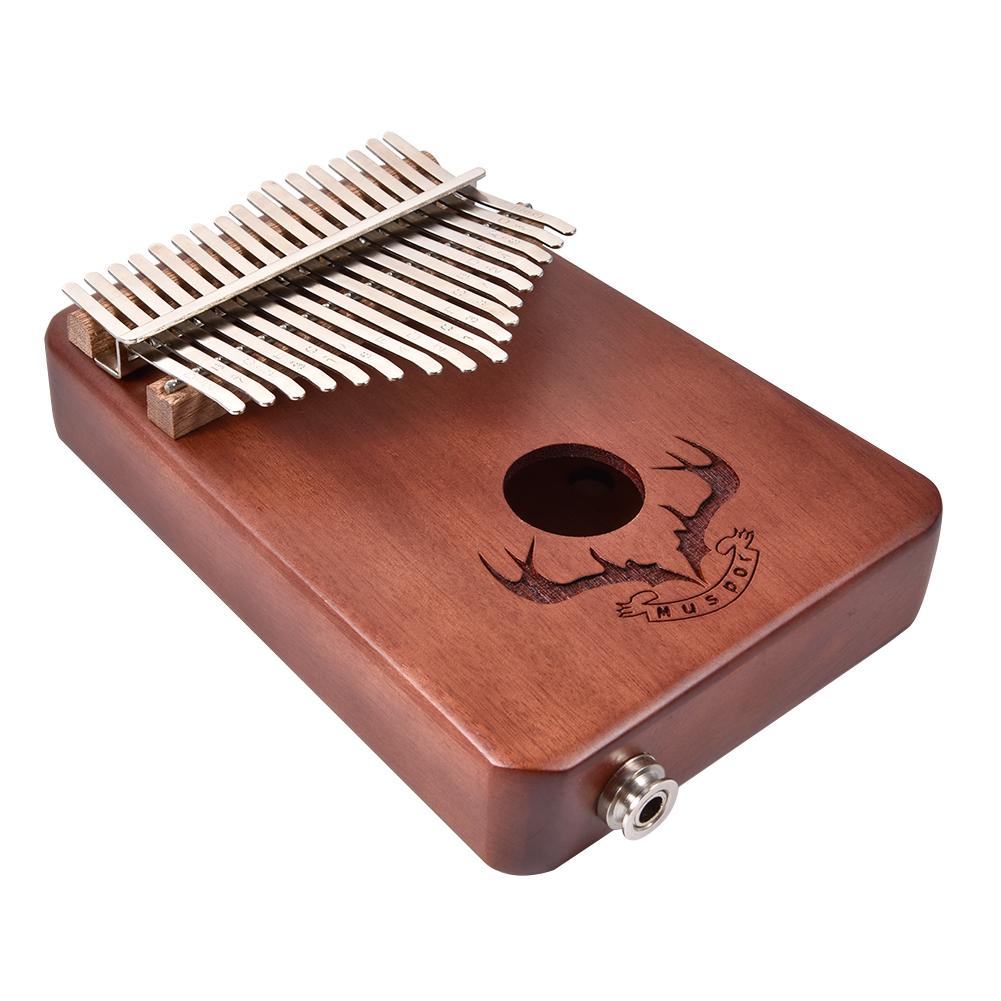 Our note:

(4.6 / 5)
Benefits
Solid mahogany body.
Carbon steel keys produce an exceptional sound.
Professional-quality kalimba.
Small enough and light enough to be portable.
Is perfectly tuned.
Disadvantages
A little expensive but great for a one-off purchase
The Kalimba 17 Notes Solid Mahogany Donner is another high-quality instrument, quite similar to the one we've just reviewed. What's more, like our previous model, it's made of mahogany, which gives the Kalimba its solid feel. So, this is an instrument that will last.
As for the notes, they're made from carbon steel, which makes them a fantastic choice and gives them a smooth feel. You'll really appreciate the feel of the teeth when you run your fingers over them. They also give the Kalimba a clear, smooth and clean sound.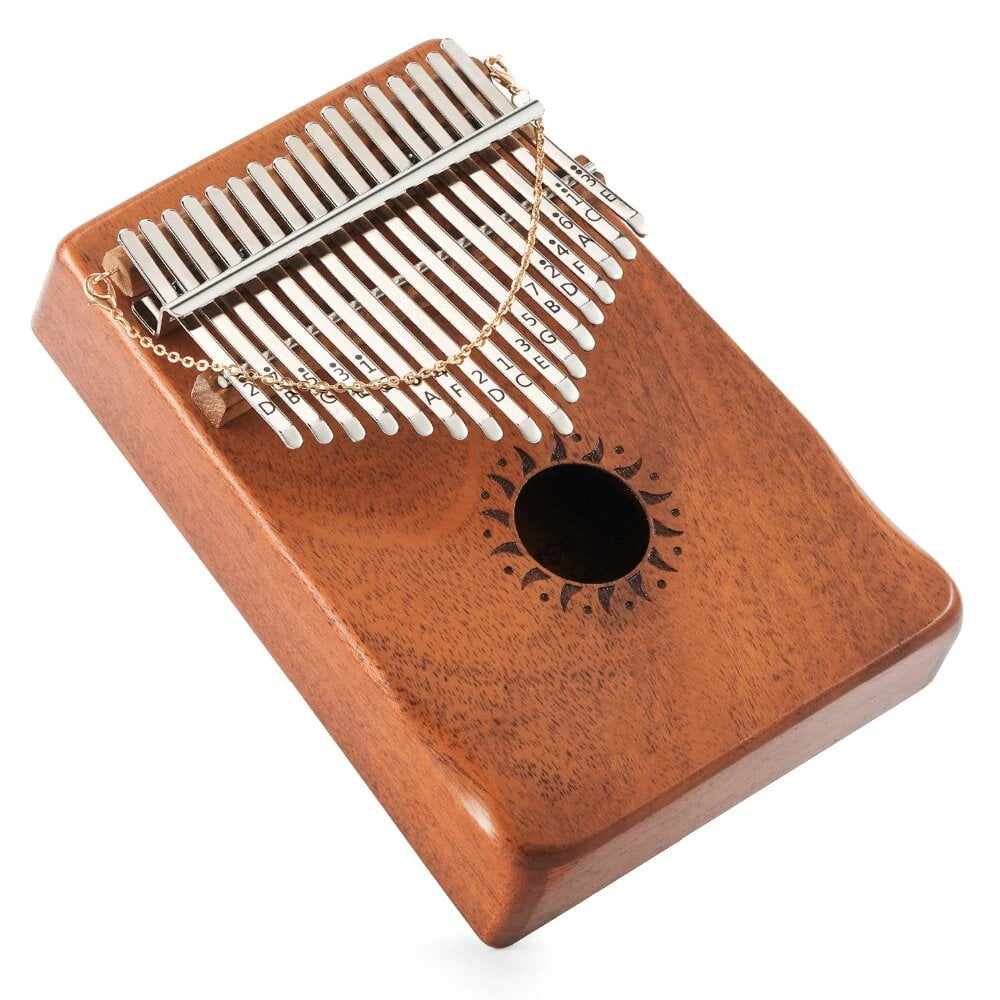 What's more, the mahogany/metal combination of this Kalimba's body and teeth ensures its durability. But not only that, it also has an impact on the instrument's sustain, which improves sound quality.
In terms of weight, this Kalimba is really light and compact, making it very easy to carry, so ideal for travel. There's also a bag included, making it even easier to take everywhere.
To ensure that this Kalimba is usable by all levels of musicians, the brand adds a manual and songbook. So don't worry if you've never played the Kalimba or any other instrument, for that matter. Mugig offers you the best.
Being a Kalimba mounted with a resonance chamber gives a rich, deep sound that you're sure to enjoy.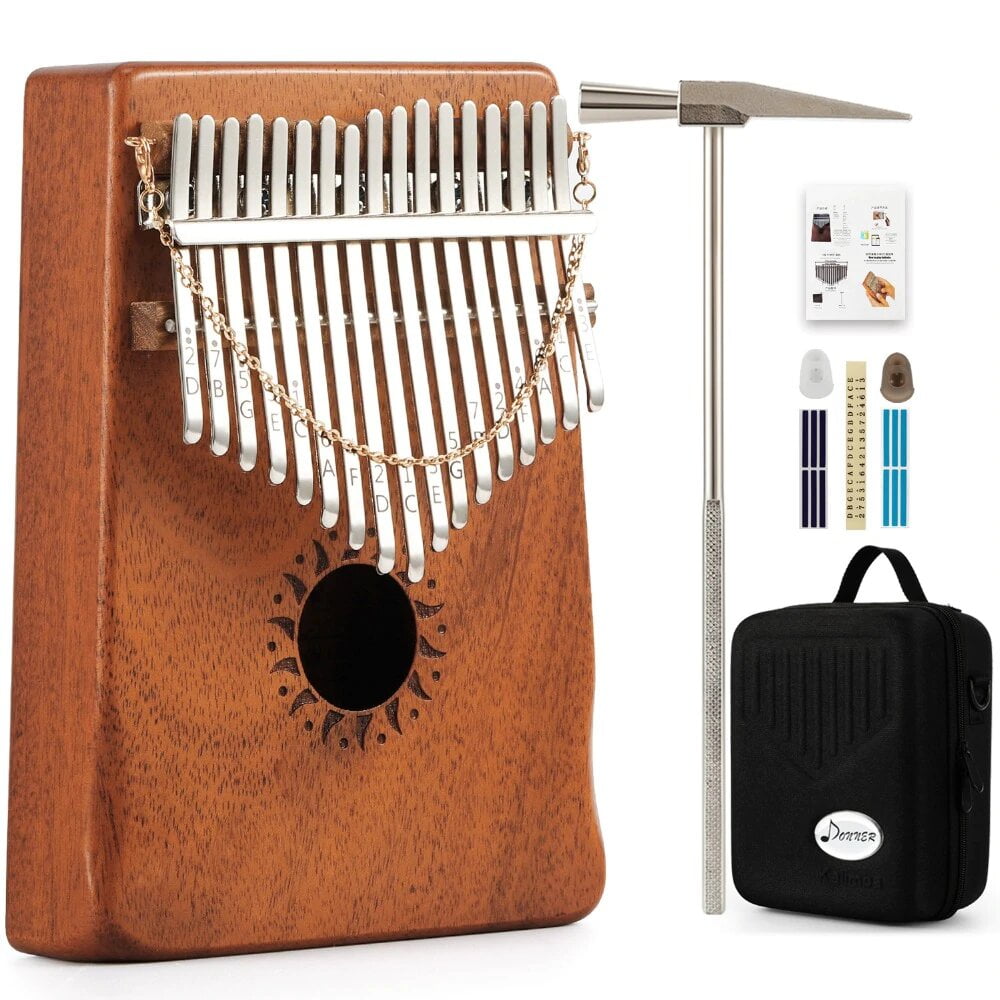 Our note:

(4.4 / 5)
Benefits
The mahogany body and metal notes guarantee durability and improve sustain as well as overall sound quality.
Small and light, making the Kalimba portable.
Playable by all levels of musicians, thanks to the instruction manual and songbook.
It comes with a removable chain for a unique sound.
Disadvantages
The bag is a little large for travel, but protects well.
We love the Kalimba 17 Notes - Professional for its style and design. It looks quite high-end and is really attractive. In fact, everything about this Kalimba's packaging gives you a feeling of luxury.
Now, it's handmade for this model - the mahogany is of the highest quality to make the body of this instrument. As for the teeth, they decided to use steel ore. The combination of these two materials gives the Kalimba an exceptional appearance.
But beyond appearances, the mahogany body and ore-steel teeth also give this Kalimba its characteristic sound. It's a clean, clear sound.
We are also impressed by the Kalimba 17 Notes - Professional. is superb, and you'll love running your fingers over it.
The price is reasonable, although we wouldn't exactly call it budget. So, to protect your investment, we provide you with a solid, quality protective case that will ensure your Kalimba's safety in the event of an accident.
If you wish, you can combine this with other instruments for a recording session or performance. It goes well with other instruments, such as than ukuleles, for example.
Finally, for those who don't have piano, drums, Kalimba or experience on any other instrument, there's no need to worry. When you buy this, you'll also have access to the Professional Learning Guide, which should show you the ropes.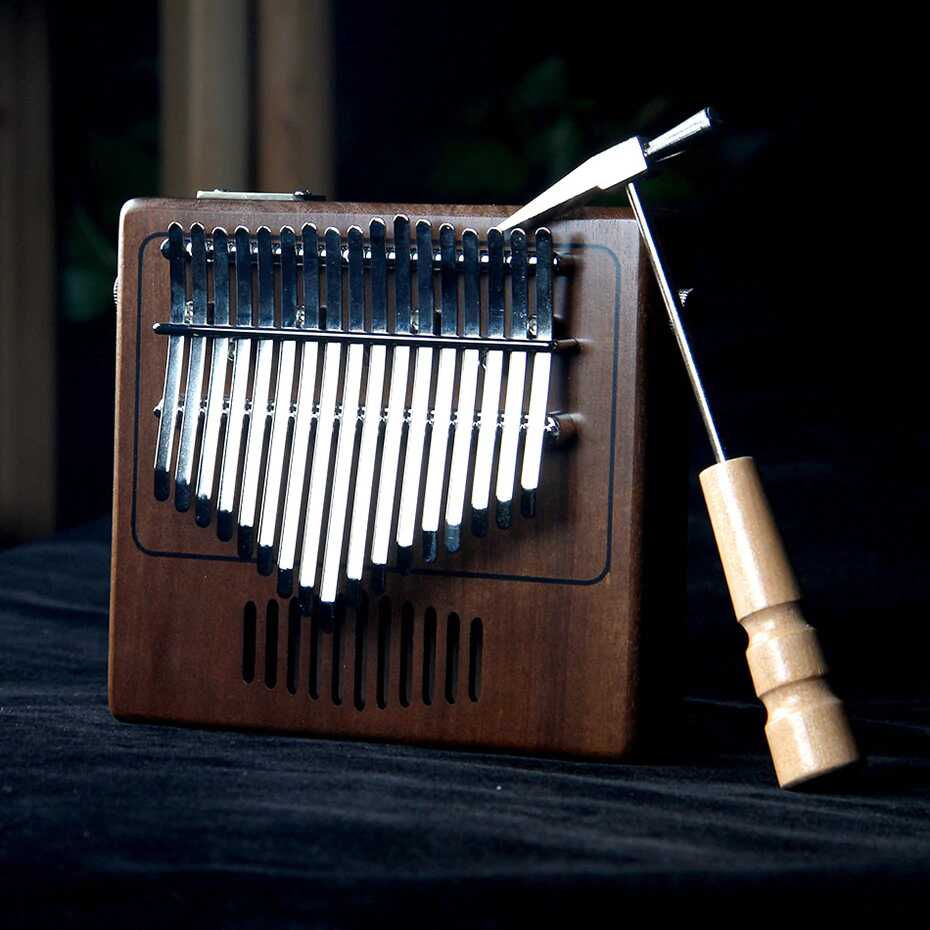 Our note:

(4.6 / 5)

Benefits
Solid, hand-crafted construction.
Clear, beautiful sound.
Comes with a Kalimba learning booklet.
Looks and feels upscale.
Disadvantages
Sometimes, the shape is a little square, making the instrument difficult to grip.
Ammoon is a brand you can trust, as they've proved to us with several products. So we decided to include one of their kalimbas in our review - the Ammoon 17 key.
In addition to the 17-key, this brand also offers a 10-key Kalimba for those who prefer fewer keys.
This is another high-quality Kalimba from a brand that knows its stuff. It's made from African piano wood, which is really cool, especially considering that the Kalimba has African roots. So you can be sure that it will give you an authentic sound, as close to the real thing as possible.
It comes with three sound holes, two of which are at the rear. These help create a superb, rich resonant sound when the instrument is played.
When you look at this Kalimba, you'll see an instrument that promises to give an exotic feel. Mainly thanks to the African piano wood used to make it. And with the way the craftsmen have painted the teeth, the whole ensemble is both exciting and soothing.
This 17-key Kalimba comes with carbon steel teeth. These improve hold and provide good, clear ringing notes.
In short, if you want something truly portable, like a handheld computer, then the Ammoon 17 Key Kalimba is for you.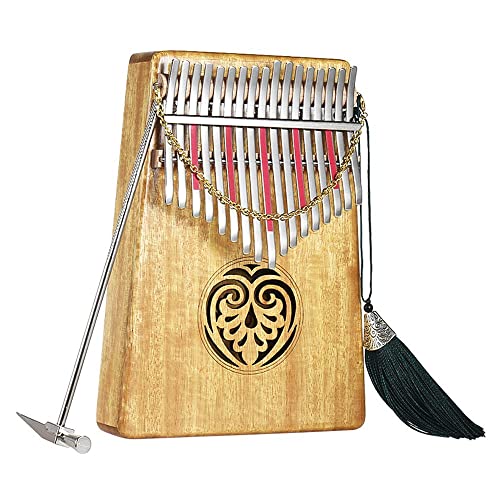 Our note:

(4.5 / 5)

Benefits
Small, light and portable.
Rich sound.
Made from African piano wood.
Exciting looks.
Disadvantages
The instruction manual is not clear enough to help you use the instrument.
The first thing that caught our eye when we noticed it was its unique design and exceptional number of blades. This is the first Kalimba in our review without the traditional natural finish and comes in an ocean blue color.
If you're that kind of person who likes to stand out from the crowd, the 20-Note Chromatic Acacia Kalimba from Muspor is for you. Well, it would seem that standing out can be an expensive hobby, as it costs a little more than the other Kalimbas we've reviewed so far. But, if that's not so bad, then this is a great buy.
If you've run out of ideas on what to give a budding musician, consider the Muspor 20-Note Chromatic Acacia Kalimba. Everyone would love to unwrap this little blue Kalimba on their birthday or at Christmas.
The wood itself is acacia and of solid quality, we might add.
Of course, the mahogany body also enhances the superb sound of this instrument, as does the sustain, which is impeccable, almost perfect, in fact.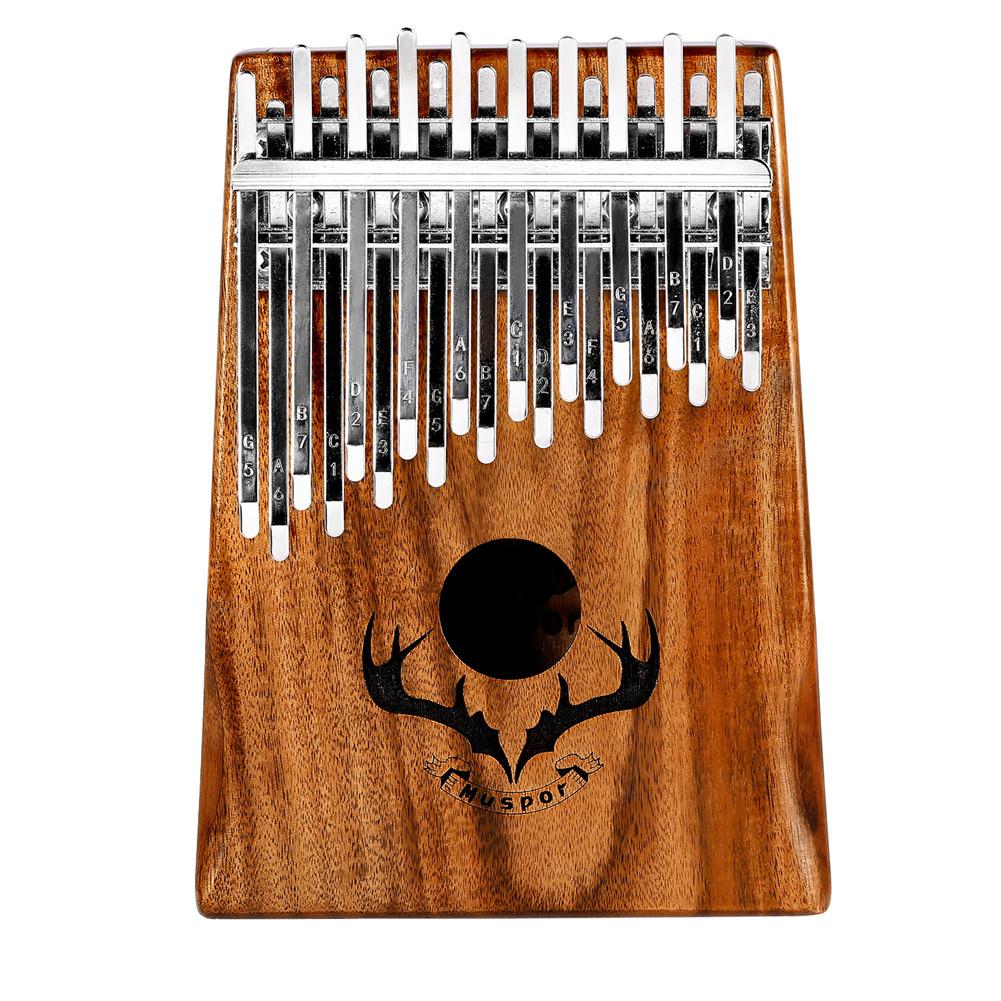 Our note:

(4.6 / 5)

Benefits
Unique, eye-catching ocean-blue color.
Small and lightweight for portability. What's more, it comes with a bag.
Solid, durable construction.
Impeccable sound quality.
Disadvantages
Sometimes complicated for the total beginner.
Our next Kalimba test, comes inlaid by hand. It's a high-quality instrument with a mahogany body and vibrato holes to amplify the sound. When you play, you can cover the holes with your fingers to vary the sound as you wish. Overall, this Kalimba looks delicate and beautiful.
To add to the brightness and color of its timbre, the makers of this instrument include adjustable springs in the Kalimba. These give the instrument a wonderfully rich sound that will really impress listeners.
Now, this is probably the lightest Kalimba in our review, weighing in at 9.3 ounces. This could be slightly due to the fact that the blades are made of aluminum alloy. As you know, aluminum is lighter than carbon steel and most other metals.
Although it produces a really melodious sound, we still don't think it sounds as good as a Kalimba with harder metal blades. But apart from that, it sounds good and will suit the beginner better.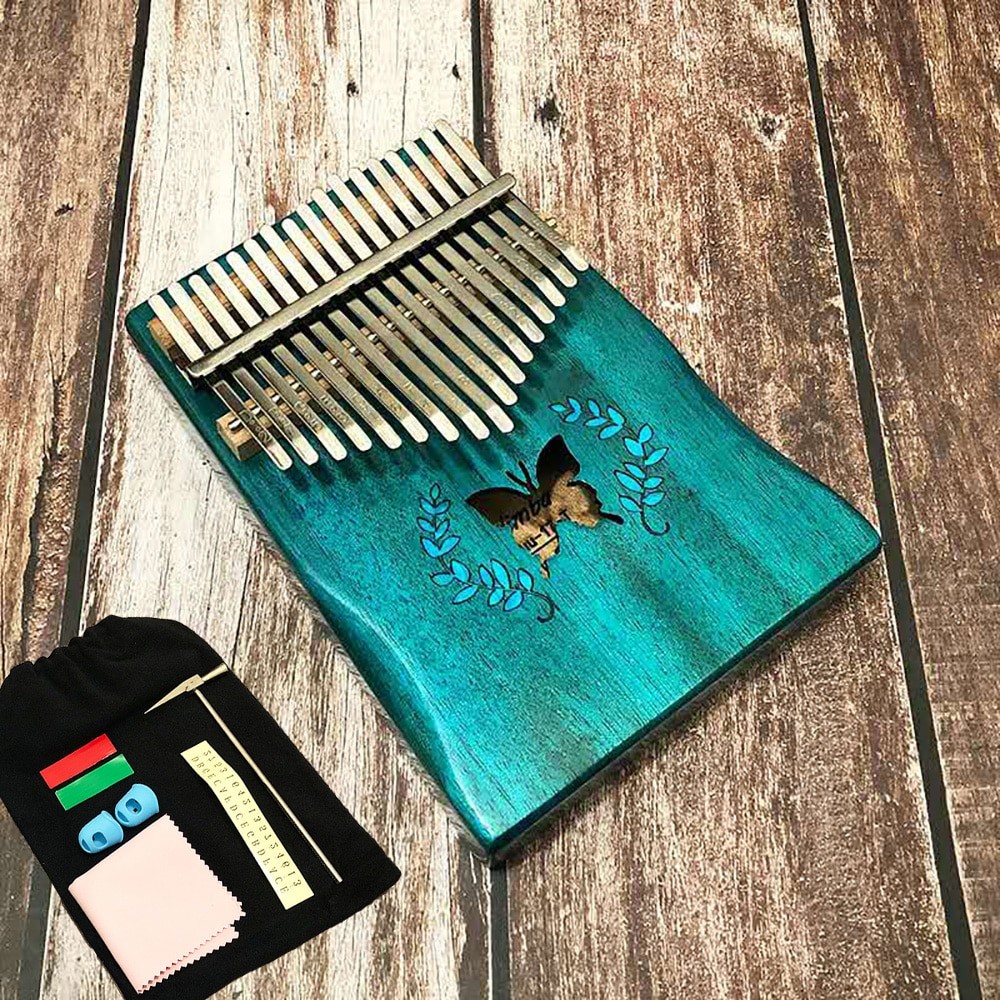 Our note:

(4.2 / 5)
Benefits
Quite affordable.
Very light and easy to travel with.
Supplied with adjustable springs for improved sound.
Disadvantages
Some notes are a little difficult to tune in the treble.
Here's another easy-to-learn Kalimba, for those with no musical knowledge. It comes with a music book, so there's help for you if this is your first venture into Kalimba.
[Complete Kit] Mahogany Kalimba is an exciting folk instrument. Its compact size makes it really light and portable. It also comes with a carry bag.
It features a mahogany body and stainless steel teeth. These materials will keep your Kalimba looking good for years to come.
It's quite similar to the last Kalimba we reviewed - the Larkyueqi 17 Key Mahogany Kalimba - in that it also comes with adjustable springs, which serve to enhance the sound.
All in all, we like this instrument, not least because of its moderate price.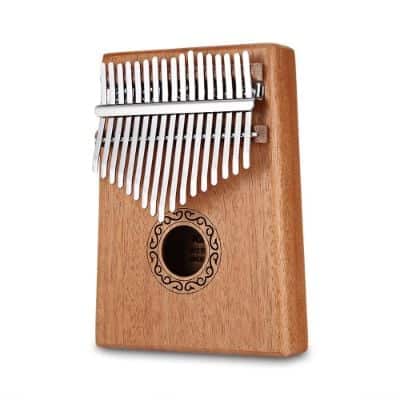 Our note:

(4.9 / 5)
Benefits
Quite affordable.
Small and lightweight for portability.
Comes with a music book to help novices.
Adjustable springs for improved sound.
Disadvantages
It may be slightly out of tune on arrival. However, this can easily be corrected.
Then we have the Ubeta 17 Kalimba key. This is an excellent instrument with 17 keys and round sound holes. The body is mahogany and the teeth are carbon steel, making the instrument very durable.
In addition to durability, this Kalimba's construction also makes it lightweight. Its 15.5 ounces make it very easy to move around. What's more, it comes with a bag, which can be used for storage and transport on the move.
We like the fact that the Ubeta produces a brilliant sound with a minimum of effort.
And if you've never played an instrument before, they've included an instruction booklet. It's easy to understand and will have you playing the instrument like a pro in no time.
Finally, it comes in a beautiful deluxe box that makes it a fantastic gift. It also arrives perfectly tuned. So, straight out of the box, you can start enjoying your Kalimba without having to modify the instrument.
When it is finally out of tune, the adjustment facilitates focusing.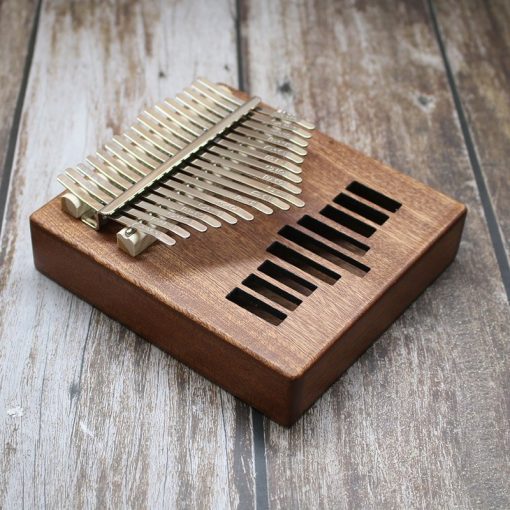 Our note:

(5/5)

Benefits
Arrives perfectly tuned.
A beautiful luxury box makes an excellent gift.
Easy to tune.
Excellent construction.
Disadvantages
Some keys are a little difficult to play.
9 Vangoa 17 Key Kalimba
In case you didn't know, some Kalimbas are equipped with a pick-up truck. So, for those of you who like loud music and proud, this is the ideal Kalimba for you - the Vangoa 17 Key Kalimba. It still sounds like your typical Kalimba, but you can do so much more with the sound you use.
As you probably know, a pickup allows you to connect the instrument to an amplifier. Just as you would with an electric guitar. This means you can turn up the volume and use it for live performance.
Please note that microphones tend to detract a little from the exotic sound of your Kalimba. You can experiment with a different sound with the use of a microphone in certain cases.
Although the Kalimba's sound is not supposed to be altered when amplified, there's no rule that says it can't be. So, if you want to play a distorted, screaming Kalimba solo through a maximum guitar amplifier, then go for it. Experimentation and innovation are, after all, the quality of music.
Be that as it may, the Vangoa 17 has excellent acoustics. The mahogany body and mineral steel teeth are delightful and give this Kalimba an exceptional sound. What's more, with the quality of its construction, the instrument looks set to last for many years of use.
The tones it produces are beautiful, comforting and relaxing. What's more, it's really easy to play, making it a great instrument for everyone. And because it's so light and small, it's easy to move around.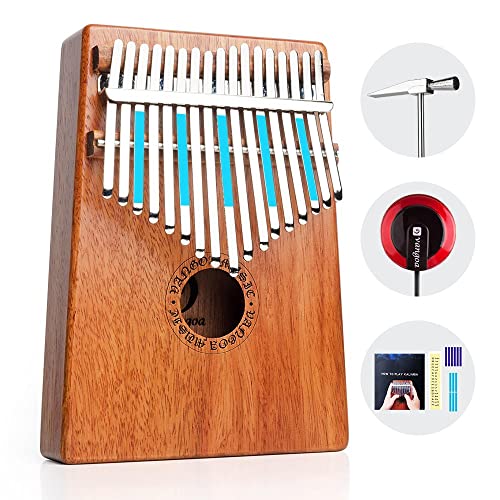 Our note:

(4.1 / 5)

Benefits
Comes with a microphone for connection to an amplifier for on-stage performance.
Robust, durable construction.
Great sound.
Small and lightweight for portability.
Disadvantages
Some customers did not receive a setting with this instrument.
10 Mugig Kalimba Mbira Pouce Piano
Finally, check out this Piano Thumb Mugig Kalimba Mbira. This is our second Mugig in this review, but will it be as good as the first? Read on to find out.
Now Mugig makes it especially for children, although adults can of course use it too.
As it is intended for use by children, it comes with 10 keys, unlike the 17 key models we reviewed. With 10 keys, the instrument is much easier for beginners to learn. And they can upgrade to a 17-key Kalimba when they're ready.
Child instrument or not, Mugig invests a great deal of excellence in the manufacture of this Kalimba. The construction is of the highest quality, with a mahogany body and carbon steel teeth. You can be sure that this instrument will enjoy many years of use.
What's more, these materials ensure that your Kalimba sounds great. And the way manufacturers design these keys means you can play them with ease. What's more, they hold the sound-enhancing elements in place very well.
What's more, Mugig includes a music book in the package, making it easy to learn music of any kind.
Finally, the Mugig Kalimba Mbira piano thumb sounds great when played with all kinds of instruments, from ukulele to the guitar . It perfectly complements their sound, giving you a richer, fuller performance or recording.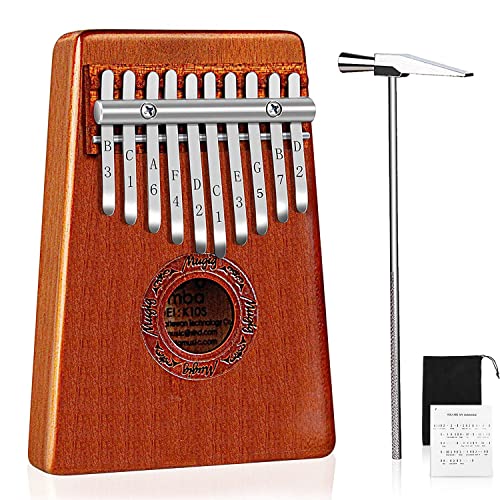 Our note:

(4.6 / 5)
Benefits
Excellent choice for children.
High-quality construction.
Easy to play and supplied with an instruction book.
Blends beautifully with other instruments.
Quite affordable.
Disadvantages
Some customers have complained that they did not receive the hammer and instruction booklet.
Buying guide for the best Kalimbas
In the following paragraphs, we'll try to explain how to choose the right Kalimba for you. And don't worry, the whole process will be a lot easier than you think.
Which Kalimba is right for me?
There are many types of Kalimbas, just as there are many types of musicians. So it's important to make the right match between them.
For example, you may be venturing into music for the first time and have decided to start with the Kalimba. If this is the case, then you should get yourself a budget instrument. You should consider something that can guide you through the basic rudiments of music. Then upgrade when you're ready.
Kalimbas with between 5 and 12 notes are a good place to start.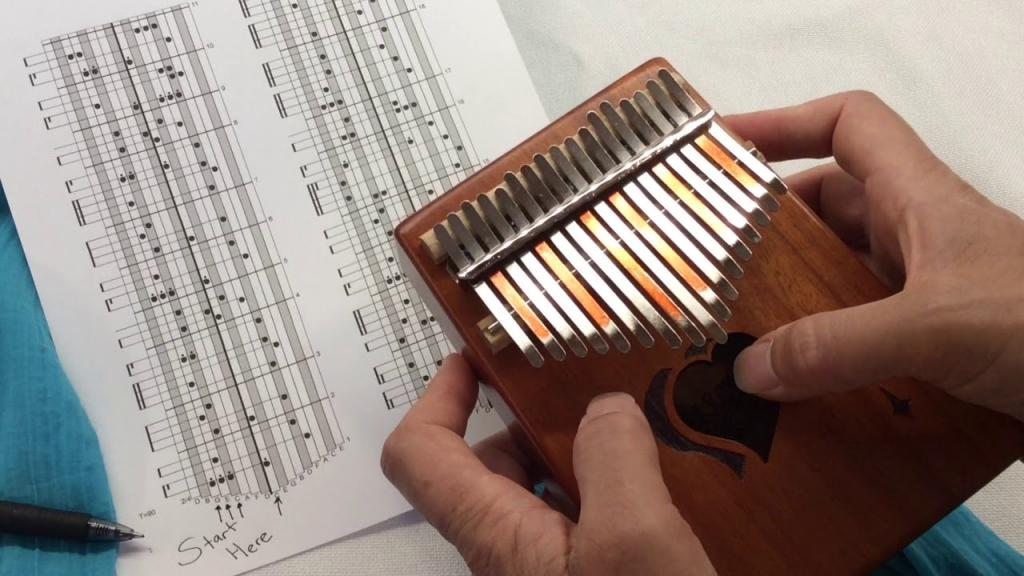 However, if you've been playing another instrument for a while, there's no need to start from scratch. Instead of acquiring 5- to 12-note Kalimbas, you can go straight to 15-, 17- or even 2-octave Kalimbas. Your musical experience will help you navigate easily.
Now, for the skilled, your options are of course much wider. You can choose a 15- or 17-note kalimba. And if you're feeling ambitious, you can even opt for the chromatic kalimba. With these instruments, you can write and compose all kinds of musical genres. These include folk, rock, classical, funk and more.
Now that that's settled, let's move on...
Kalimba features
Here are the main features of the Kalimba:
Sound holes
You use the sound holes on your Kalimba not only to hear the sound, but also to modulate it. This is done by covering the holes with your thumbs or fingers, then moving them back and forth. This results in modulation of the notes, giving you a simple "wah wah" effect.
Board-mounted kalimbas
Compared with box-mounted Kalimbas, card-mounted Kalimbas cannot be modulated to produce wha wah sounds. However, they are more durable than box-mounted models.
You can also place your card-mounted Kalimba in a gourd. This will not only amplify the sound. But, will give a buzz effect which is how most Africans use them. If you don't have or don't want to use a gourd, use plastic bowls.
Kalimbas mounted on a Crate
Some Kalimbas are mounted on a gourd. So, there's a large hole on the top of the wood, as well as two smaller ones on the side. A gourd mount amplifies the sound, particularly in the mid-range frequencies.
Resonator frames
These give the resonance and wah-wah effects you associate with the Kalimba.
Setting
There are two aspects to tuning. The first is important, as your Kalimba will be periodically out of tune with use. The second is more experimental, such as tuning it to obtain different sounds.
To aid proper tuning, most brands include a tuner and chart with their Kalimbas. This will ensure that you tune correctly.
Tooth color
The color of the teeth is not important for the sound of your Kalimba. However, they do play a role in playability. Painting the teeth will help to act as reference points when playing. They also help you transfer your tablature notes to the Kalimba.
Type of wood
Kalimbas can be made from many different types of wood. The most popular wood choice is African Kiaat hardwood, available in a wide range of styles and grain colors (usually warm brown).
They are also generally made from sapwood, which is blond but can also have black, red or blond highlights.
In addition, Kalimbas are also available in other solid wood options with interesting grain patterns and colors.
Conclusion
Choosing our favorite Kalimba is a little difficult, given that all the instruments in our range are excellent. But after careful consideration, we've decided to put it back on the...
... Donner 17 Key Kalimba.
We liked the fact that the price was right, perfectly tuned, and that the sound and build quality were excellent.
It's a great Kalimba, so will you find one among those we offer?